Here we go!

2017:

Côtar!

Oupia!

2016:

Eric Texier!

Combel-la-Serre!

François Cazin!






We've decided, in order to face the challenges of multiple vintages affected by frost, to help supplement our treasury with a new activity of négoce wines. We are actually very happy to have embarked in this very human, collaborative endeavor.

After contacting some vignerons friends in Anjou, we were able to secure biodynamically farmed grapes in red (Cabernet) and white (Chenin). The opportunity to purchase grapes in the Midi was offered to us in August. Chance has drawn me back to a region I spent a lot of time in during my oenologist years and that I've always appreciated for the beauty of its land and vineyards. We met a vine grower close to Mont Ventoux, also in biodynamics, who due to the lack of a local buyer's interest for the quality of his work, decided to sell his harvest elsewhere.

In a race against time, were were able to purchase beautiful grapes from gobelet trained, 45 year old Grenache and old Carignans. This decision was made hastily and instinctively, motivated by a positive experience with a new acquaintance. These three very intense weeks in late August and September have led us to a new, durable partnership with a vine grower who cares about the quality and morality of his work. This permitted us to choose the grapes directly from the the vines, to decide the optimal moment to harvest and, in coordination with other vignerons friends, hand-harvest ourselves in small bins and quickly bring the grapes back home in a refrigerated truck.

We worked non-stop for these beautiful grapes. A first for us, a totally de-stemmed vinification took place in our new cellar. The results are already tangible.

CONFLUENCE:



Harvested in the zone of Petits Bonnezeaux, Confluence (100% Chenin) will be in a resolutely dry style, with a good body marked but by fresh white fruit, particularly peach. This is a sector apt for botrytis, and we were very diligent about exact harvest dates to avoid it at all costs. We are very happy with the result.

CASTOR:



Lighter than its Southern brethren, Castor (70% Cabernet Franc, 30% Cabernet Sauvignon) shows nice richness and a great freshness, with ripe fruit and acidity. The Cabernet Franc dominates and shows optimal maturity; I don't think it could have been picked at a more perfect time. This is definitely Loire, and more fresh than opulent. However, a solid tannic structure assures that the wine, while ready to drink now, will age gracefully.

RAISIN MIGRATEURS:



Still in elevage, Raisins Migrateurs (80% Grenache, 20% Carignan) is looking to be rich and solid. Dense with very ripe fruit, black, crunchy fruit dominate on the palate but are balanced by rich, elegant tannins. The potential to age this wine is real, and our goal was to find a balance between immediate enjoyment in its youth and cellaring. We think that the wines' nuance will work well with red meat and game. It is a real pleasure to discover the generous profile of the Southern Rhône.


We are very, very excited to be working with the wines of La Villana! We first met Joy Kull years ago when she was interning at Le Coste, and were finally able to visit her this May and check on her solo project. We were very impressed for a first vintage, and looking forward to sharing these with the you!

Read Joy's profile and interview here!
Contact us:
info@louisdressner.com
phone:212.334.8191
fax:212.334.9216


Blog Feed
instagram


Latest Producer Videos: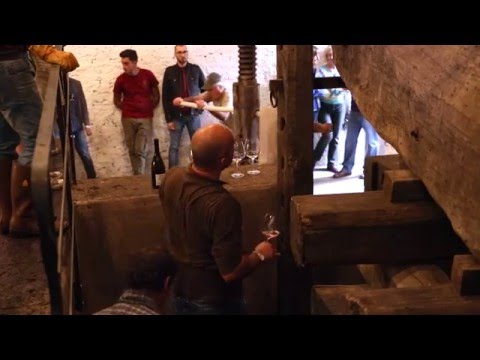 Traditional Palmento Vinification at I Vigneri!
Fabricca di San Martino's 2015 Harvest.
Louis-Antoine Luyt's 2014 Pipeño Harvest.