A second update of 2018 harvest reports.

Domaine Luneau-Papin!

Maria-Ernesta Berucci!

Domaine Mosse!

Ulysse Collin!

Domaine de la Pépière!

Olga Raffault!

Bernard Baudry!

Combel-la-Serre!

Elodie Balme!


Better late than never.

Laurent Lebled!

Altura!

Pierre Overnoy!

Fernand Girard!

François Cazin!

François Pinon!

Jean Manciat!

Phillipe Chevarin!

Renardat-Fâche!

Santuvario!

Valérie Forgues!

More to come.


We've been working with Fabio for a few years now. It's been a fun ride with lots of good wines.

Every time we get a new shipment, however, I have to scratch my head, search my notes and emails to remind myself how to crack the "Gea Code". I love crosswords, and acrostics and especially diagramless puzzles (which are sadly a rare sighting in the NY Times these days.) So why I cannot remember the meaning behind these glyphs always stumps me, perhaps age, perhaps too many things in the brain, STML, who knows. I decided that writing this down somewhere would not only be very helpful for myself but also for all of our customers and fans of Fabio's wines.....so here goes!

Let's start here....the Mushroom Panda label:




The code is Lm07140008

1st Position L = lot

2nd Position m = moderno = machine destemmer
other possibilities: M = Manuale = hand harvesting,
or t = tradizonale = foot trod, often manually destemmed

3rd, 4th, 5th, 6th Position 0714 = month and year of bottling

7th, 8th Position 00 = months of barrel aging

9th, 10th Position 08 = total sulfur at bottling in mg/L

Optionally, 11th Position g = mainly sandstone (grès) anfora aging
or p = mainly porcelain (porcellana) anfora aging
or v = mainly demijohn (vetro) aging

For another example, if you look at this Back Grin label



Lm08160009g
The wine is de-stemmed grapes, was bottled in August 2016, there is no wood aging, it has 9 gm/L of Total Sulfur and it was mainly made in sandstone anfora (like the one behind Fabio in the above picture.)

I hope this helps makes the illusive wines of Fabio a bit more clearer for everyone.



We are very pleased to ring in the new year with the arrival of Domaine Puech-Reudon's 2017's!

Read all about this collaboration between proprietor Cyrile Cuche and Eric Texier right here.
Contact us:
info@louisdressner.com
phone:212.334.8191
fax:212.334.9216


Blog Feed
instagram


Latest Producer Videos: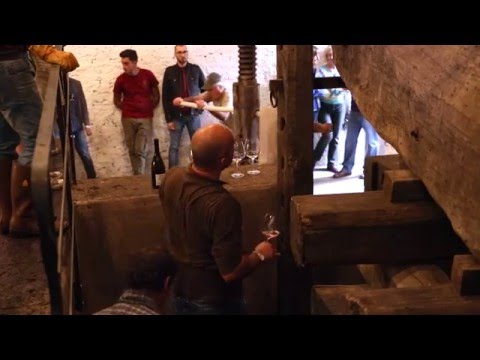 Traditional Palmento Vinification at I Vigneri!
Fabricca di San Martino's 2015 Harvest.
Louis-Antoine Luyt's 2014 Pipeño Harvest.